I firmly believe that freediving is sport where you performance is mostly determined by your technique.
– Ted
Any instructor can tell you what to do; I demonstrate why it's in the student's best interest to apply my techniques to their diving.
– Ted
With over a decade of instructional experience, I know first hand that everyone learns differently. I make sure to identify these differences and adapt my teaching method accordingly.
– Ted
Ted Harty
begin his professional underwater career as a Scuba Instructor for PADI,NAUI, and SSI in 2005. In 2008 he took his first freediving class with Performance Freediving International. After that course on his days off he didn't want to go scuba diving he wanted to go freediving, and realized his passion was freediving. In 2009 Ted took PFI's first official Instructor program, and immediately started working for PFI helping Kirk Krack and Mandy Rae-Kruckshank teach courses all across the USA.
Ted went to his first freediving competition in 2009 as an overweight out of shape scuba instructor and progressed from 80-90ft freediver to 177ft in 3 weeks. After the experience he wondered what he could do if he actually started training. Since that time he broke a USA Freediving record in 2011, won 3 freediving competitions, was selected to be the co-captain of the USA Freediving team in 2012, and his deepest dive is 279ft.
Why choose Immersion
Why Choose Immersion Freediving over the hundreds of newly minted Freediving Instructors
Full time instructor since 2005, over a thousand students over my career
Former USA Freediving Record Holder, Captain of men's 2012 USA Freediving Team
Deepest freedive is 279ft
PFI Advanced Freediving Instructor & PFI Instructor Trainer
Maximum 5 students per course, no 16+ person freediving courses
Immersion Freediving classes have more class, pool, and ocean time than other courses
More Time = Better Results
Private boat, No dive shop crowds, more time diving & more flexibility to deal with weather
Industry leader in teaching frenzel and developing online pre course training.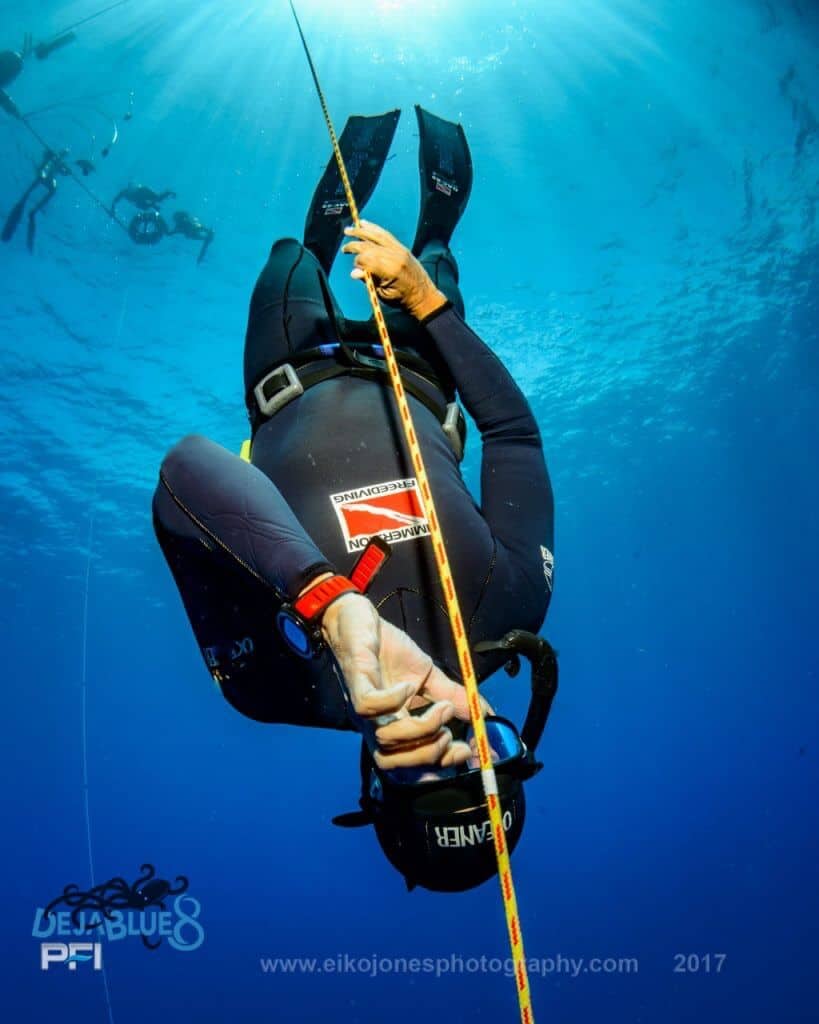 Notable freediving accomplishments
April 2009 Passed PFI first official Instructor program.
May 2009 1st place men's overall freediving PFI competition Breathless.
May 2011 1st place men's overall freediving PFI competition Deja Blue 2.
October 2011 Broke longest standing USA freediving record at the freediving World Championships in Italy with dynamic apnea swim of 558ft. (170M)
Competed head to head against William Trubridge in the Finals of 2011 Freediving World Championships and not surprisingly got crushed.
November 2011 Trained with William Trubridge to work on no-fins and Sara Campbell to learn 3 stage mouthful technique.
May 2012 Personal best freediving of 279ft (85M) during Deja Blue 3
June 2012 selected as men's captain of 2012 USA Freediving Team
February 2013 attained PFI Advanced Instructor and PFI Instructor Trainer, first and only PFI independent instructor to receive this rating
May 2014 1st place men's overall PFI competition Deja Blue 5
Jan 2015 started Immersion Freediving online pre-course training system
April 2018 awarded Inaugural Dimitris Kollias award for an outstanding job of promoting freediving safety.
Appeared on Discovery Channel with Tim Kennedy for T.V. show Hard to Kill
Sheri Daye pulled the wool over my eyes and had me on stage and speechless Sunday afternoon during the Blue Wild Expo when she awarded me the Dimitris Kollias award. For the past four years, Sheri has asked me to do a presentation on freediving safety at the Blue...
read more